Have you ever attempted to open your front house door and a toad-like frog jumped into your house? Have your gone out the front door to get the mail and stepped on a toad-like frog? If you live in a tropical climate, you are most likely meeting a Cuban Treefrog.
What are Cuban Treefrogs? Cuban Treefrogs are very invasive, whitish to gray-green amphibians that secrete a skin mucus that can irritate our eyes and nose.
WHAT ARE THESE AMPHIBIANS INVADING MY HOUSE?
If you live in a Tropical Climate, chances are you have seen Cuban Treefrogs invading spaces around your house. You can find them hang out near outdoor house lights, taking over your birdhouses, your fish pond an/or your bird baths. You will find that the space they invade will also leave ugly stains caused by their poop. Sometimes the Cuban Treefrogs even find their way into homes. Please look in the toilet before sitting down because they are known for hanging out in toilets and they may even clog your drains.
MY EXPERIENCE: Every time we open our outdoor patio umbrella, these Frogs fall out. There poop is staining my umbrella material. Most manage to hang on to the umbrella and form a circle that the top of the umbrella pole. I don't know about you, but even a Boy Mom like me does not want to sit under an umbrella and have these fall on you. After the the Frog, pictured above fell out of my umbrella today, I decided to research what these invaders were and if they were harmful to My Boys and Dogs.
ARE THESE FROGS HARMFUL TO HUMANS AND PETS?
According to the University of Florida Wildlife, Cuban Treefrogs skin secretes a mucus that can irritate our eyes and nose. This mucus can cause a very strong skin reaction, like a rash or allergy-like symptoms. The mucus has also been known to even trigger asthma attacks in those that suffer. If you touch a Cuban Treefrog, make sure you wash your hands immediately to avoid any discomfort the mucus may cause. The secretions from the skin of any frog or toad can cause eye irritation, but this is especially true with the Cuban Treefrogs. These frogs are not known to be poisonous to small pets, but the Treefrogs mucus secretion may irritate your pets eyes. If you have Cuban Tree Frogs where your Dog can hunt them, be sure to inform your Pet Sitter where the Frogs are located in case your Dog gets into them (See "What Do I Need To Tell A Pet Sitter?").
WHAT DO CUBAN TREE FROGS LOOK LIKE?
Cuban Treefrogs color can vary, ranging from whitish to gray, green, or brown. Their armpits and groin may be washed with yellow. The skin on their backs looks bumpy, like warts on a toad. Also, Cuban treefrogs have very large toe pads, usually much mider than native Treefrogs. The UF Wildlife, recommends performing a test to confirm you are dealing with a Cuban Treefrog. Hold the frog firmly, and try to move the skin around on the top of the frog's head with your finger tip. The skin on the head of a Cuban Treefrog is fused to the top of the skull and won't move. Be sure to wear gloves or wash your hands well, so their skin secretions will not irritate your skin and eyes.
MY EXPERIENCE: After the Frog fell from our outdoor umbrella, my son used one of our nets to move it under our tree. You can tell from the picture above that the frog is light grey-green in color, had the large bumps, and has very large toe pads.
WHAT SIZE ARE CUBAN TREE FROGS?
Per, the University of Florida Wildlife, usually Cuban Tree Frogs can range from 1.5 in. – 3 in. Some have been known to get as big as 5.5 in. in size (body only, not including legs). The UF Wildlife also states that any Treefrog in Florida that is larger than 2.5 inches is definitely NOT native, and is probably a Cuban Treefrog. Adult females are significantly larger than adult male Cuban Tree Frogs.
WHAT DO CUBAN TREE FROGS EAT?
Cuban Treefrogs eat beetles, roaches, spiders, and other small invertebrates, like lizards and snakes. Cuban Treefrogs prey on at least five different species of native frogs. Their tadpoles can out-compete native tadpoles for food or space and Cuban Treefrogs are considered a very invasive species that is causing a decline of native Treefrogs.
WHEN DO THESE FROGS BREED?
Cuban Treefrogs can breed March – October, but can breed year round in South Florida. They can lay up 100-1,000 eggs at a time on a surface film. They have a call called a hoarse mraaaak! To hear frog calls, visit the USGS Frog Call Lookup and select the species you want to hear from the common name drop-down list.
MY EXPERIENCE: Every evening around sun down, we hear these LOUD calls. I never knew who was making this very annoying noise until I started researching these frogs.
| | | | | | | | | | | | |
| --- | --- | --- | --- | --- | --- | --- | --- | --- | --- | --- | --- |
| Jan | Feb | Mar | Apr | May | Jun | Jul | Aug | Sep | Oct | Nov | Dec |
| | | X | X | X | X | X | X | X | X | | |
X =
Cuban Treefrogs Breeding Months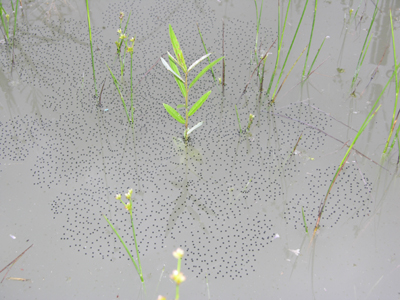 WHERE DID THESE FROGS COME FROM?
Per the University of Florida Wildlife, The Cuban Treefrog (Osteopilus septentrionalis) is native to Cuba, the Cayman Islands and the Bahamas. It is assumed these Treefrogs hitchhiked in containers on cargo ships in the 1920s. They now can be found in Hawaii, Florida and in parts of Southeastern Texas. Cuban treefrogs are considered a very invasive exotic Treefrog species.
| | |
| --- | --- |
| Native Areas | Invaded Areas |
| Cuba | Hawaii |
| Cayman Islands | Florida |
| Bahamas | Southeastern Texas |
Cuban Treefrogs Migration
WHAT CAN I DO ABOUT THESE FROGS?
Per the University of Florida Wildlife, biologists recommend that Cuban treefrogs be euthanized/killed because of their destructive effects on native species of amphibians and reptiles. UF Wildlife states that it is illegal (and irresponsible) to re-release them into our ecosystem because Cuban treefrogs are so invasive to native species. Many have reported that they have less lizards, snakes, etc after Cuban Treefrogs built a habitat near their home. Please be sure to confirm you have Cuban Treefrogs, before euthanizing them. (See "WHAT DO CUBAN TREE FROGS LOOK LIKE?" for a good test).
WHAT IS THE RECOMMENDED WAY TO HUMANELY EUTHANIZE CUBAN TREEFROGS?
After confirming it is in fact Cuban Treefrogs that have invaded your house surroundings, please euthanize them humanely. Capture the Treefrog using gloves or put a plastic bag over your hands. Remember their skin secretes a mucus that can irritate your eyes and skin if it touches them through your hands. After you capture the frog, apply Benzocaine (20%) to the back or belly of the frog. The Benzocaine will result in the Cuban Treefrog to become unconscious very quickly. If you have not done so yet, put the unconscious Treefrog in a sealed plastic bag. Place this sealed plastic bag containing the Treefrog in the freezer overnight. The next day, you can dispose of the bag containing the humanely euthanized Cuban Treefrog.
WHERE CAN I GET BEZOCAINE (20%)?
Benzocaine (20%) can be found at your local drugstore. Everything from First Aid, Burn Sprays, and Toothache gels or liquids cantain Benzocaine (20%).
Related Articles That May Interest You:
*This article is for information purposes only and any concerns should be discussed with your local Fish and Wild Life Conservation Commission.
References: https://ufwildlife.ifas.ufl.edu/frogs/cubantreefrog.shtml